The Built Environment Research Group at IIT maintains a variety of equipment and facilities for our experimental research. Facilities include the Built Environment Research Laboratory (BERL) in Alumni Hall, which houses student offices and lab spaces for collaborative research in a 600 square foot (56 square meter) shared space. We primarily use the Lab for staging field campaigns, instrument setup and repair, meetings, computer simulations, small scale chamber testing, and thermal performance measurements using our Hot Box test facility.
We also maintain studioE, or the Suite for Testing Urban Dwellings for their Indoor and Outdoor Environments.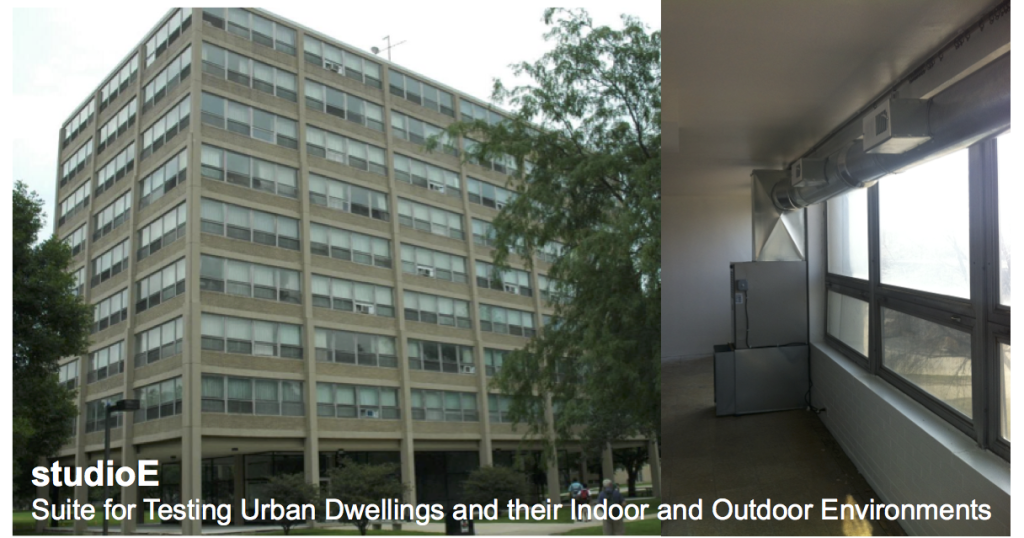 studioE comprises two unoccupied, adjacent 800 square foot (74 square meter) apartment units in graduate student housing in Carman Hall at IIT. One unit is outfitted with a complete central air handling unit and ductwork distribution system representative of typical homes in the United States. We use studioE for research on the transport of outdoor pollutants indoors, filtration and air cleaning of indoor pollutants, energy simulation, measurement, and verification, energy and air quality test method development, and teaching building science measurements and instrumentation.
We also maintain a 3.6 cubic meter stainless steel test chamber, chamBERG, in Alumni Hall used for emissions testing and other more controlled laboratory tests.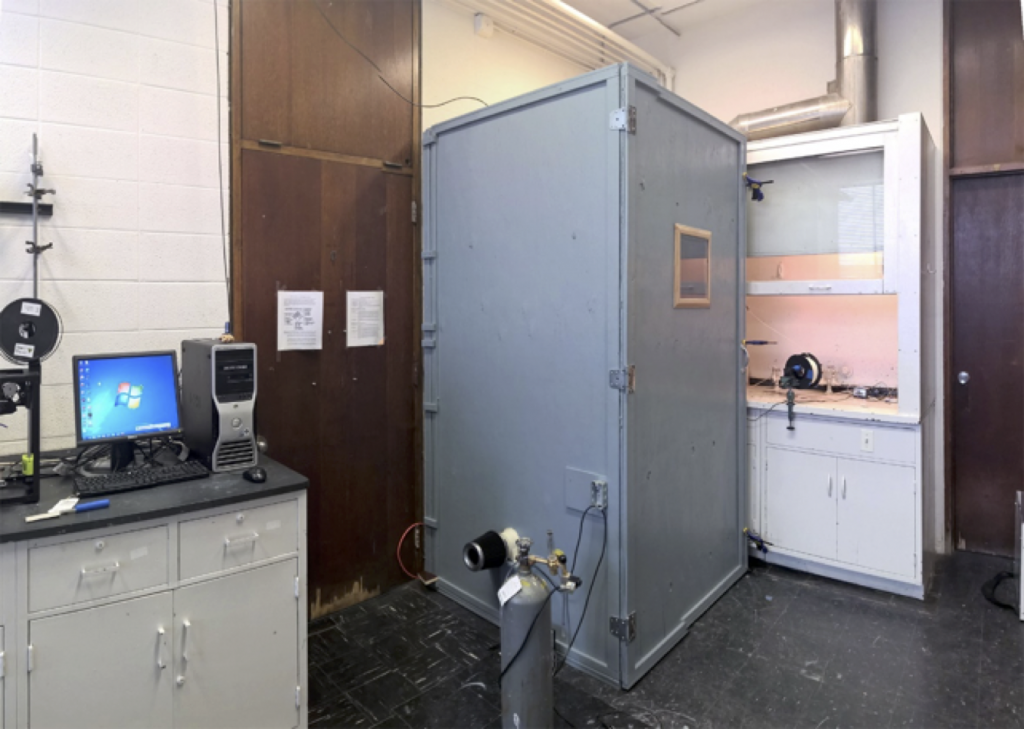 Across BERL, studioE, and chamBERG, our experimental and data logging equipment includes:
TSI NanoScan SMPS (10 to 400 nm particles, size resolved)

TSI Optical Particle Sizer (0.3 to 10 µm particles, size resolved)
TSI DustTrak (PM1, PM2.5, PM4, and PM10 mass, inferred)
TSI Condensation Particle Counter (10 to 1000 nm particles, not size resolved)
2B Technologies Model 211 ozone monitor
Stainless steel electronically actuated switching valves
Hukseflux heat flux meters
Kipp and Zonen pyranometer
PP Systems SBA-5 CO2 monitors
TSI Q-Trak CO2 and T/RH monitors
Telaire CO2 monitors
A custom automated CO2 injection and decay system for air exchange measurements

Environmental conditions (e.g., temperature, relative humidity, and light)

Differential pressure gauges

Surface temperature thermistors
Energy Conservatory TrueFlow plates
Energy Conservatory Duct Blaster
Energy Conservatory Blower Doors